Original Post from CPAWS NS, here. Featured photo by Nicole Tomasic
Nova Scotia's coastline is home to an abundance of birds – shorebirds, seabirds, waterbirds, and even woodland species. Recently, CPAWS-NS helped organize an expedition to Owls Head Provincial Park Reserve, with a group of expert birders, to document the diversity first-hand.

Owls Head is a coastal headland that supports a variety of habitats including bogs and wetlands, estuaries, salt marshes and beaches. Our birding team set out to identify bird species across these habitats and document the ecological significance of this unique region.
Owls Head has been a Provincial Park Reserve for decades, until it was suddenly delisted by the Nova Scotia government last year without a public consultation. The provincial government intends on selling-off these public lands to a golf course developer – this cannot be allowed to happen.
The expedition group split into two, with half entering Owls Head on foot to identify bird species. Although hiking is slow due to the dense brush, over the course of two early mornings the ground team identified the calls of warblers, sparrows, common yellowthroat, American robins and ring-necked pheasants, to name a few. Not a bad 5am greeting!
The rest of the group focused on the coastline, heading out to Owls Head by sea kayak. The view of the coast from the water is spectacular, with islands, white sand beaches, and rocky outcrops. We were even joined by a few friendly harbour seals who kept us company on our paddle, though we were sure to keep our distance!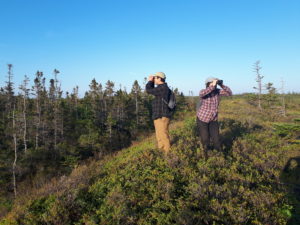 From the water, we saw great blue herons, ospreys and a bald eagle, as well as black guillemots, willets, and migratory species like the American redstart. Our keen-eyed coastal birder also identified a handful of provincially-endangered barn swallows.
The fieldwork was a success with a total of 58 species of birds identified and recorded using eBird, an online database of bird observations used worldwide. The government claims that Owls Head is of low conservation value, but our fieldwork is adding to a growing body of research that shows that this is clearly not the case. By documenting the biodiversity found in both marine and terrestrial habitats, we can improve public knowledge and demonstrate the conservation significance of this area.
Keep your eyes peeled for more Owls Head fieldwork expeditions coming soon!
Caitlin and Reanne
Related Posts from CPAWS NS
Photos of Eastern Shore Islands by CPAWS NS
CPAWS Video Tour of the Eastern Shore Islands
"Back at Owls Head" by CPAWS NS offers a fascinating glimpse into the site's biodiversity, including 75 species of birds.
CPAWS NS Explores the Eastern Shore Islands
Caitlin Grady's Timeline: The Delisting of Owls Head Provincial Park Reserve